Cooling system installation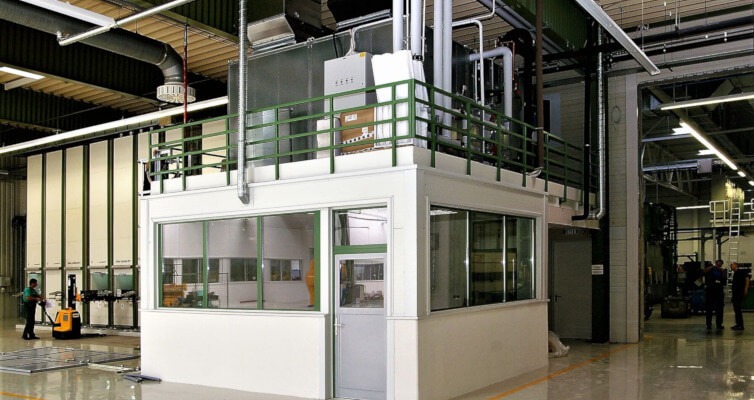 Cooling of buildings
In the heat of summer, a pleasant temperature is part of our sense of comfort, so a cooling system is essential not only in residential buildings, but also in department stores, halls and all buildings today. However, a cooling system may also be required for the uninterrupted operation of production technology machines. That is why cooling system installation is important for everyone; in order to get an easy-to-operate system, great care must be taken for the installation of the cooling system.
Prior to the installation of the cooling system, it is important to keep in mind the type of cooling system we use already during design because the goal is to minimize costs for the Principal during installation and the operation of the completed system. During our work, we can provide a solution to our Principals not only in the installation of the cooling system, but also in design tasks upon request. We can use any system in connection with the cooling system. After design, the professional installation of the cooling system is of key importance, and Kozma Kft. can provide professional and reliable assistance in this. Whether it is a process cooling system, a system serving an office building or public building, or the installation of a machine that generates cooling energy (e.g. a liquid cooler, a cooling tower or even a split air conditioner), Kozma Kft. provides a solution for its partners.
Within building services engineering, one of our key services is the installation of cooling systems. We are mainly involved in installation of systems for floor areas over 1,000 square metres. In the case of a number of major projects, we have already been engaged to install cooling systems. We present a few of these for reference:
Komax Hall, Budakeszi
HAPP Hall, Markó
Tesco, Nagyatád
Euronics Store, Zalaegerszeg
Intermodal Railway Station, Kaposvár
Hospital, Szombathely
Small Lake Balaton Visitor Centre, Fenékpuszta
EGIS Pharmaceutical Factory, Galenic Plant.
Kozma Kft. has more than 15 years of professional experience in the field of cooling system installation. Our highly trained team is the guarantee for quality work.
During our work, we work with a fixed group of contractors, and several workers of our own blue-collar staff also have the qualifications required for the installation of machines serving cooling systems. Due to the above, quality and precision are guaranteed during cooling system installation.
We look forward to your inquiry if we can provide you with a solution in the installation of a cooling system.